Hello and Welcome to LittleLulu Project Studio! I'm Lulu62, but you can call me LittleLulu, Megumi "Megululu-chan" Aramaki or Lulu Alden. I love watching anime, films, television series and playing video games. I'm a fan of Sailor Moon, Final Fantasy, RPG Maker or Megaman series. I'll do my stuff for fanon anime/movies/TV series/video games just for fun! Have fun and happy editing!!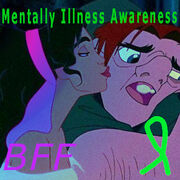 Wanted
User is a fan of anime, films, television series and video games
User must be director, producer, character designer or composer (characters and music belongs to rightful owners, not me!).
User must be female (Yes, I am!).
User has already one on a wikia.
User has a good grammar and spelling.
User has learned Japanese, English, Arabic, or any language they speaking.
The genre of choice for video games are: Fighting, Horror/Survival, Psychological Thriller, Action-Adventure, Puzzle, Role-playing game, Bishoujo/Otome/BLs/Eroge games.
User's age must be 13 and above, not allowed for those who are under 13.
User should not post any porn images, shock images, or explicit descriptions of sex, writing down lemon is okay, but the user must be 18 and above to read/write carefully and use the Hide/Show script to hide the write.
My Studios/TV Channels
Anime Studios
Movie Studios
Scream Bloody Murder Productions
Walt Disney's LittleLulu Castle Studio
Shooting Stars Filmworks
Milky Way Group
LittleLulu's WWE Live
TV Channels
LittleLulu Broadcasting Television

LittleLulu Television Network (general family entertainment via terrestrial)
LittleLulu Moviegate Network (24-hour movies)
LittleLulu Moviegate Omega (24-hour movies)
LittleLulu Animanga Network (Japanese and American cartoon entertainment for children and adolescents)
LittleLulu Animanga Network PlusPower (Japanese and American cartoon entertainment for young-adult between 15 and 18)
LittleLulu ForWoman Network (entertainment for women around world via terrestrial)
LittleLulu Superhero Network (Japanese tokusatsu drama and American superheroes series and movies)
LittleLulu Dramatia Network (24-hour television drama and dubbed drama)
LittleLulu Bollywood Network (24-hour Bollywood movies dubbed in Arabic by LittleLulu Studio Arabia)
LittleLulu All-News Network (the 24-hour English-Arabic language news channel)
LittleLulu Blossoms Network (24-hour educational programs and cartoon for preschoolers)
LittleLulu Sports Network (offers 24-hours worldwide soccer matches, professional wrestling matches, athletic games and analyzing programs)
LittleLulu Tonight Life Movies (offers 24-hours made-to-television movies and television specials aimed for women originally aired on this channel. A joint venture between Hallmark Movie, LittleLulu Moviegate Omega, Lifetime Movies, and Disney–ABC Television Group)

LittleLulu FalcoTalon Channel

(web-exclusive channel offers 24-hours horror and thriller films, television shows, reality program and shorts stories. As well as anime series targeted toward older viewers (13 and up), video games reviews, interviews with scream queens and WWE live free wrestling)

LittleLulu Reminiscence Network

(offers 24-hours nostalgic good-time television programs like Full House, Falcon Crest, Crystal Maze and more)

LittleLulu Reminiscence Network Arabia

(offers 24-hours nostalgic good-time arabic television programs like Papa Farhan, Tash Ma Tash, Buggy wa Tamtam, religious programs and more)
Video Games Studios
Favorite Anime
Dragon Ball/Z/GT/Super
Sailor Moon/Sailor Moon Crystal
UFO Robot Grandizer
Princess Sarah
Captain Tsubasa
Pretty Cure series
Favorite Film
Barbie film series
Lara Croft Tomb Raider
Lion King
Tooth Fairy
Favorite Video Games
Megaman X series
Final Fantasy series
The King of Fighters series
Street Fighter series
Criminal Case
Tomb Raider series (I preferred classic is from 1 to 5)
Tekken series
Mugen
RPG Maker
Crash Bandicoot
Programs
Camtasia
Sony Vegas Pro
RPG Maker VX/VX Ace
Adobe Photoshop
Drawing
Genre
Favorite Genre: Action, Adventure, Crime, Comedy, Drama, Fantasy, Music, Romance, Sci-Fi, Shoujo, Slice of life
Favorite Sub-genre: Cooking, Sports, Bishounen, Harem/Male harem, Tournament, Magic
Least Favorite genre: Horror, Psychological, Thriller (Yikes! I don't like it! But I often reading and writing my idea! So, don't ask!)
Favorite Pairings
Usagi Tsukino x Mamoru Chiba (Sailor Moon)

Usagi Tsukino x Kou Seiya (Sailor Moon)

Chibiusa x Pegasus/Helios (Sailor Moon)
Haruka Tennoh x Michiru Kaioh (Sailor Moon)
Kunzite x Zoisite (Sailor Moon)
Son Goku x Chichi (Dragon Ball)
Vegeta x Bulma (Dragon Ball)
Trunks x Mai (Dragon Ball)
Son Gohan x Videl (Dragon Ball)
Duke Fleed x Princess Robina (UFO Robot Grendizer)
Tsubasa Ozora x Sanae Nakazawa (Captain Tsubasa)
Jun Misugi x Yayoi Aoba (Captain Tsubasa)
Nagisa Misumi x Shougo Fujimura (Futari wa Pretty Cure (Max Heart))
Urara x Syrup (Yes! Pretty Cure 5 Gogo)
Coco and Nozomi (Yes! Pretty Cure 5 (Gogo))
Nuts and Komachi (Yes! Pretty Cure 5 (Gogo))
Love Momozono x Daisuke Chinen (Fresh Pretty Cure!)
Megumi Aino x Seiji Sagara (HappinessCharge Pretty Cure!)
Simba x Nala (Lion King)
Kiara x Kovu (Lion King 2: Simba's Pride)
Megaman X x Alia (Megaman X 5-8)
Zero x Iris (Megaman X 4)

Zero x Layer (Megaman X 8)

Axel x Palette (Megaman X 8)
Alia x Gate (Megaman X 6)
Cloud x Tifa (FFVII)
Squall x Rinoa (FFVIII)
Zidane x Garnet (FFIX)
Tidus x Yuna (FFX)
Wakka x Lulu (FFX)
Shuin x Lenna (FFX-2)
Vaan x Penelo (FFXII)
Serah x Snow (FFXIII)
Noctis x Lunafreya (FFXV)
Prompto x Cindy (FFXV)
Sonic x Amy (Sonic the Hedgehog)

Sonic x Princess Sally (Sonic the Hedgehog)

Shadow x Rouge(Sonic the Hedgehog)

Shadow x Maria Robotnik (Sonic the Hedgehog)

Silver x Blaze (Sonic the Hedgehog)
Tails x Cream (Sonic the Hedgehog)
Knuckles x Tikal (Sonic the Hedgehog)
Hated Pairings
Megumi Aino x Blue (HappinessCharge Pretty Cure!)
Sonic x Princess Elise (Sonic the Hedgehog) --> Worst pairings ever!