| | |
| --- | --- |
| | Warning!!: All of pages are made and belongs to LittleLulu! If you touch, edit or change the page without my permission or not follow these rules, I will punish you in the name of the moon!! Thank you~! |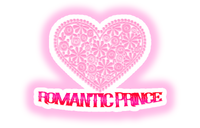 Romantic Prince
(

ロマンチックプリンス

?

)
is a Passion-type brand featured in Luminous Live. It is Makoto and Tetsuharu's preferred brand. The concept of the brand is inspired by prince-charming and fairy tales. Its main user is Makoto Todoroki. The top designer is Madoka Aiuchi. Its special appeal is Happily Ever After.
About
Known Users
Makoto Todoroki
Tetsuharu Washio
Known Coords
Data Carddass LumiLive Cards
Snow Prince Coord
Dwarf Boy Coord
Perfect Charm Coord
Cat Demon Coord
Mouse King Coord
Mighty Thor Coord
Sleeping Brave Coord
Floral Prince Coord
Good Manners Coord
Handsome Gladiator Coord
Sweet Noble Coord
Magic Knight Coord
Brave Lion Coord
Pied Piper Coord
White Swan Coord
Monkey King Coord
Dreamy Prince Coord
Charming Hero Coord
British Beauty Coord
Jungle King Coord
Mirror Noble Coord
Romancing Britain Coord
Peter Pan Coord
Snow Lover Coord
Romantic Red Seraph Coord
Romantic Blue Seraph Coord
Galaxy Love Prince Coord
Holiday Limited Edition
King Father Coord (2017)
Prince Cowherd Coord (2017)
Summer Royal Coord (2017)
Romance Firework Coord (2017)
Halloween Prince Coord (2017)
King Christmas Coord (2017)
Fatherhood Night Coord (2018)
Milky Knight Coord (2018)
Beach Romance Coord (2018)
Yutaka Empire Coord (2018)
Pumpkin Banquet Coord (2018)
Santa Hero Coord (2018)
Trivia
The brand's mascot is Sir Kira-a-Lot.
This brand is considered to be male counterpart of Dreamy Crown from Aikatsu!
Community content is available under
CC-BY-SA
unless otherwise noted.